Triple P - Positive Parenting Program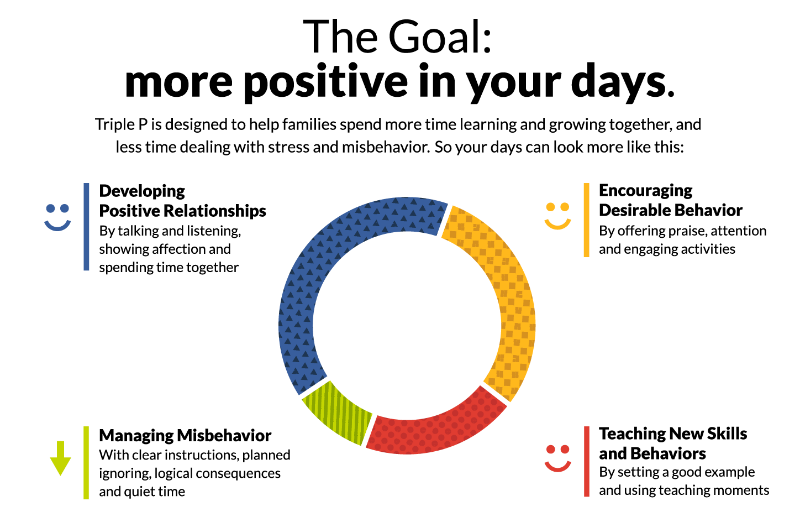 Parenting isn't always easy, Triple P is here to help!
You love your kids. So why's it sometimes so hard to love being a parent at times?
There is a lot of pressure to know how to parent. Kids don't come with directions. Families grow as you learn together, figure out how to get along, set rules and work on problems together. It's normal to feel tired along the way, but we don't usually talk about how hard parenting is. Every day brings new things, and it can seem like you're always running low on time, on sleep, or on patience. It's no wonder that so many parents feel stressed, but there's good news: Triple P can help.
You have choices
Triple P is for parents with children ages 0-12 years of age.
Triple P providers won't tell you how to be a parent. They will offer ideas that work for other families. Together, we will work to find tools that work for your family. You'll find all kinds of ideas, from help raising toddlers to learning how to cope with tough problems at home. With Triple P, the choices are yours.
Find the right level of support
Set your own priorities and goals
Decide what works for your family
Change ideas to meet your family's needs
Attend a Triple P event
Want to boost your skills and confidence? Need help tackling a specific problem? Get insights into your child's behavior and gain some skills to try at home with Triple P seminars, workshops, and discussion groups. These events provide parents with a friendly place to learn, share and seek out support.
The programs offered here are brought to you by a partnership between Children's Wisconsin, The Parenting Network, and Milwaukee Center for Children and Youth. Events could have a facilitator outside of Children's Wisconsin.
Not all events listed below may be available. Check back often for new offerings.
Seminar series (90 minutes) – Triple P seminars give parents and caregivers a friendly place to learn, share and seek out support. Get to know the core principles of positive parenting and learn how to deal with everyday challenges.
Power of positive parenting
Raising confident, competent children
Raising resilient children
Informed workshops (90 minutes) – These interactive workshops give you a space to talk about common parenting challenges, tackle specific issues, learn from other parents' successes, and connect with other local families. You will develop and walk away with a parenting plan to support your family's needs.
Balancing work and family
Behavior at school
Being bullied
Coping with stress
Tantrums
Self-esteem
Discussion Groups (120 minutes) – Triple P discussion groups are interactive sessions where you will talk about the misbehavior upsetting your family life with a small group of parents like you. You will watch short videos of real parents experiencing real problems and will develop and walk away with a parenting plan to support your family's needs.
Dealing with disobedience
Managing fighting and aggression
Developing good bedtime routines
Hassle-free shopping with children
Get one-on-one help
Stressed out? Feel like you've tried everything? Sit down with a Triple P provider for advice on a specific problem. In one-on-one coaching, you will meet with a provider for brief one-to-one coaching sessions to focus on your family's specific needs and create an action plan.
* Please note that we are only able to work with families in one-on-one Triple P who are located in Milwaukee and the surrounding counties.
Triple P provider registration
COVID resources
If you have any questions about Triple P, please email us at tripleP@childrenswi.org.
Triple P - Positive Parenting Program is supported in part by the Wisconsin Child Abuse and Neglect Prevention Board (Prevention Board). Twenty percent of the Prevention Board's funding is from the U.S. Department of Health and Human Services, Administration on Children, Youth, and Families (Community-Based Child Abuse Prevention Grant). Points of view expressed do not necessarily represent the official positions of the financial sponsors.