Triple P: Positive Parenting Program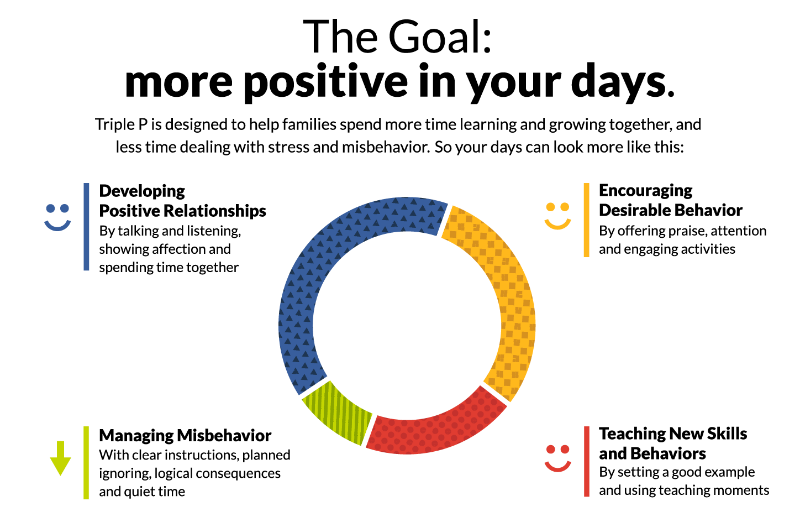 Parenting isn't easy. Triple P is here to help!
You love your kids.
But parenting comes with a lot of pressure. Each day brings new challenges. You might feel like you don't have enough time in the day. You're tired. And you're running out of patience. Its no wonder parents feel stressed.
Triple P is free for parents with children ages 0 - 12 year of age.
Triple P has tools that work for your family:
Boost your parenting skills and confidence
Gain insights into your child's behavior
Promote good behavior
Manage misbehavior
Tackle specific problems
Attend a Triple P event
Triple P events help you learn new skills and find support. You can share your stories and struggles. These free events help you create a parenting plan that works for your family.
Seminar series (90 minutes)
Learn core ideas of positive parenting and tips to deal with everyday challenges.
Power of positive parenting
Raising confident children
Raising resilient children
Informed workshops (90 minutes)
Connect with local families. Talk about parenting challenges and learn from other parents' successes.
Balancing work and family
Behavior at school
Bullying
Coping with stress
Tantrums
Self-esteem
Discussion Groups (120 minutes)
Meet with other parents in these small-group sessions. Talk about misbehavior that may be upsetting your family life.
Deal with disobedience
Manage fighting and aggression
Create good bedtime routines
Shop with your children, hassle-free
Not all events listed may be offered at this time. Check back often for new offerings. These events are for parents with children from birth to 12 years old.
The programs offered here are brought to you by Children's Wisconsin, The Parenting Network, and Milwaukee Center for Children and Youth. Events may have a facilitator outside of Children's Wisconsin.
Get one-on-one help
Stressed out? Feel like you've tried everything? Sit down with a Triple P provider for advice on a specific problem. One-on-one coaching sessions will help you create an action plan for your family's needs. One-on-one coaching in a primary care clinic is subject to a charge and parents may receive a bill for services.
*We are only able to work one-on-one with families who live in Milwaukee and the surrounding counties.
Questions?
Email us at tripleP@childrenswi.org.