Claire's story
Iowa family makes 6-hour trip to treat their daughter's heterotaxy syndrome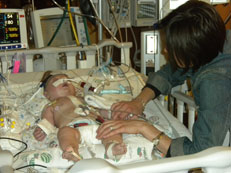 It's devastating enough to learn your unborn child has been diagnosed with a rare birth defect, especially one where the existing literature can be pretty scary. But when you're facing a foe like heterotaxy syndrome, the bad news just keeps coming.
Nick and Sue Honkamp were hoping for a relatively quiet pregnancy with their fourth child, Claire, after Sue had given birth to twins just a few years prior. But at the 20-week ultrasound, doctors detected what appeared to be a minor heart issue. After being referred to a neonatologist and a cardiologist, however, the diagnosis became much more serious.
Heterotaxy syndrome is a rare disorder — affecting only 4 in every 1 million children, according to the Heterotaxy Foundation — in which organs do not form in their proper places. The heart, which normally forms on the left side of the chest, can be located on the right side in a heterotaxy patient. It's also been known to affect the development of the liver, lungs, intestines and spleen. Each patient is a different story, so the Honkamps waited, worried — and hoped — wondering just what they and their little girl were up against. In Claire's case, "She had a little bit of everything," Sue said. "I think it was after her stomach surgery that one of the surgeons said this was a true case of heterotaxy. She's got it all."
Nick and Sue sought more specialized expertise than what was available at their local hospital in Des Moines, and that eventually led them to Drs. Peter and Michele Frommelt at Children's Wisconsin. Having developed a reputation as an institute of excellence for the treatment of congenital heart defects, Children's has attracted patients from around the world.
It wasn't long before the Honkamps knew they had found the right place.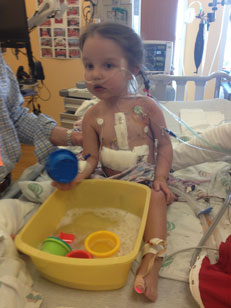 Right away, Peter was very upbeat," Nick said. "He said, 'Oh, yeah, we see one or two cases of heterotaxy a month, and we've got kids who are 20 years old. We can make her better.' That was pretty great to hear, because up to that point, there was a lot of uncertainty. I was wondering if she was she going to live past a few months after birth. Talking to Peter was a breath of fresh air."
Michele Frommelt performed the prenatal evaluation on Claire, and was immediately confident that Children's could help her.
"We know how to identify all the different problems with heterotaxy," she said. "We have a great genetics department that helps identify certain mutations, and there is a heterotaxy gene evaluation that we do, which is a newer thing. It helps parents come to an understanding of why this happened, and sometimes even why it might happen again if someone in the family also carries that gene. Our surgical results are excellent for all of these procedures that we do, and then we also have the long-term follow-up for patients. We're willing to take on the risks of these patients and of doing new things."
Claire was born at Children's, six hours from her home in Iowa, and at just 2 days old had surgery to repair a hiatal hernia and malrotated bowels. She stayed in the hospital for three weeks as Children's staff worked to stabilize all the medications she needed and get her breathing on her own. Like many heterotaxy kids, Claire was not able to eat on her own, and needed a feeding tube, which she still uses today. She had another surgery at 2 months old, then her first open-heart surgery soon after. All told, she had six surgeries by the time she was 2½ years old.
Aside from the emotional toll of the surgeries, the family had to plan for many extended trips back and forth from Iowa to Milwaukee. With the help of family and friends, they got through it, and Sue says being able to have Claire seen at Children's was worth all the effort. "Every time we went up to Children's, we felt like we could take a deep breath and they're going to figure it out and Claire was going to get better," she said.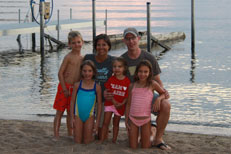 Now a happy 3-year-old preschooler, Claire has come a long way. It's to the point that anyone meeting her today would never suspect all the health struggles she's endured.
Sue remembered when she told some fellow parents at Claire's preschool about the heterotaxy, "and they were completely shocked. Looking at her, watching her play, you would not know. For them to think she was a completely healthy kid, that was pretty cool."
When Claire does return to Children's, it's to a welcoming and familiar staff, many of whom proudly sport the Team Claire T-shirts the family had made.
"We enjoy going to Milwaukee, not only because Claire gets better, but we get to talk to all those people we've come to know," Nick said. "It's almost like a break."
Become a patient or contact us
Share your story with us
Tell your Herma Heart Institute story and share encouragement with other families!
Share Your Story
Nationally recognized

Among the nation's best 
U.S. News & World Report has once again ranked the Herma Heart Institute at Children's Wisconsin among the top programs in the nation for pediatric cardiology and heart surgery. This ranking reflects the excellent outcomes and care we provide for even the most complex heart conditions. Families travel from across the country, and even around the world, to receive care from our specialists who are experienced in treating congenital heart disease from before birth and into adulthood.
Read the Report