Jack's story
One year after his heart transplant, patient in landmark case is thriving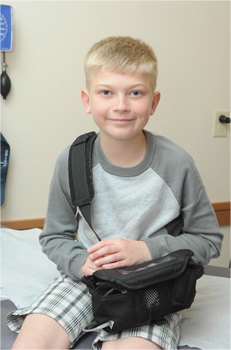 Jack Radandt carried his HVAD around for three months waiting for a heart transplant
May 20, 2014 -- Jack Radandt was 11 years old and in need of a heart transplant. He would indeed get one, but not without making a little history first.
Born with hypoplastic left heart syndrome (HLHS), meaning his left ventricle was severely underdeveloped, Jack had already undergone heart surgery at age 2. Life was relatively normal after that, although his parents, Missy and Jason Radandt, knew at some point their son most likely would need a new heart. Yet it was still a shock nine years later when, despite not showing many symptoms, they were told Jack was in heart failure.
"It all happened very quickly," said Missy Radandt. The family, which also includes Jack's sisters Eden and Ella, were about to embark on a medical odyssey that would feature a treatment never before tried on a patient in Jack's situation.
As he waited for his new heart, Jack had to stay in his room at Children's Wisconsin, far away from his Valders, Wis., home. He grew extremely close to the many doctors and nurses involved in his care — to the point where they all became like family — but he was understandably homesick.
"I was going insane," Jack said. "I felt like I was in a tiny yellow box!"
Enter the HVAD
TheHeartWare VAD® (HVAD) is a mechanical pump implanted in the body to help blood flow in people with weakened hearts. The portable version is carried much like a laptop bag, with a strap over the shoulder and the case down by the waist. Adults have had success using them at home, but it's much more rare in children.
For a pediatric patient with HLHS — like Jack — it had never been done.
Dr. Steven Zangwill, MD, one of the Herma Heart Institute doctors who cared for Jack, was well aware of the risks but still confident it was the right move.
"You're always nervous when you use high-tech devices in life-and-death situations," Dr. Zangwill said. "But we had good experience with this device, and we had a good understanding of Jack's physiology. We thought he was a good candidate, so I don't think there were particularly heightened levels of anxiety about it. We have a really remarkable team."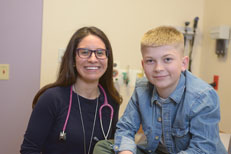 Andrea Bobke, MSN, CPNP-PC, APNP, helped Jack Radandt as he prepared to go home with the HVAD
Jack and his family were nervous as well. Despite his desire to get out of the hospital, not having the security of the monitors and other technology was a scary prospect, especially at night. Missy and Jason also were faced with having to gain extensive knowledge in learning how to maintain the machine and manage Jack's condition on their own.
After a successful procedure to implant the HVAD, Jack was sent home, becoming a medical pioneer the second he was out the door. It wasn't long before the family knew they had made the right decision. Freed from the hospital, Jack flourished and became incredibly active, running and playing, and even taking up archery at school.
"He was able to remain a child and live a somewhat normal life, and we were able to live as a family again," Missy said. During Jack's hospital stay, Eden and Ella essentially had been living at their grandmother's house while Missy and Jason juggled work and making the 90-minute drive back and forth to Children's. "Kids thrive being at home. Just being home for a week, I thought he looked better, being in that natural environment. His color looked better. His attitude. There's a difference."
"Coming home was amazing," Jack said. "I got used to the hospital, and the people here. I missed them. They were like family. I got to know all of them very well, but I really missed home."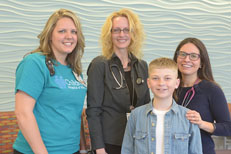 From left: Stacy Fischer, MSN, RN, CPN; Gail Stendahl, DNP, RN, CPNP; and Andrea Bobke, MSN, CPNP-PC, APNP, reunite with Jack Radandt (front) during his monthly checkup at the Herma Heart Institute in April, 2014
Even though he wasn't at the hospital, the Children's staff was never far away. In addition to always being available — "There was no such thing as calling us or emailing us too many times," said Dr. Robert Niebler, MD — Jack's caregivers sometimes came to him. Andrea Bobke, APNP, accompanied Jack to school one day and, with his help, gave a presentation to his classmates and teachers about the HVAD. It went so well that Bobke said it's something she now plans to do with all future HVAD patients who return to school.
Her time with the Radandts left a strong impression on Bobke. "I was able to witness just how strong a family can be," she said. "Not only has there never been a patient like Jack, but there has never been a mother like Missy, a father like Jason, sisters like Eden and Ella. No one had ever taken home a child with one ventricle on an HVAD. It was a bunch of firsts, and they all did an amazing job."
Jack ended up using the HVAD for five months, three of which were spent at home. On May 20 of last year he underwent his heart transplant. One year later, he is in good health, having just turned 13, and has been busy delivering speeches about his experience to groups like Wings of Angels and the American Heart Association.
"I have a new heart, so now I can do almost anything," Jack said.
At a recent appointment back at Children's, it's apparent that the close relationships Jack developed with the staff have continued. They talk medical stuff, sure, but also about his upcoming basketball games and other life events.
Everyone at Children's who dealt with Jack remarked on his intelligence and ability to understand his complex medical issues. If there's a silver lining to all his trials and tribulations, it can be found in the new friends he has made, and that he might have just found a career path. The kid's pretty sure he'd love to be a doctor someday.
Dr. Zangwill echoed the sentiment of many, saying, "I tell you, it wouldn't surprise me."
Become a patient or contact us
Share your story with us
Tell your Herma Heart Institute story and share encouragement with other families!
Share Your Story
Nationally recognized

Among the nation's best 
U.S. News & World Report has once again ranked the Herma Heart Institute at Children's Wisconsin among the top programs in the nation for pediatric cardiology and heart surgery. This ranking reflects the excellent outcomes and care we provide for even the most complex heart conditions. Families travel from across the country, and even around the world, to receive care from our specialists who are experienced in treating congenital heart disease from before birth and into adulthood.
Read the Report