Neuropsychology
Pediatric neuropsychology focuses on how a child thinks, learns and behaves, along with how their brain grows. This is important information for most children who have a brain injury or disorder. At Children's Wisconsin, our pediatric neuropsychologists help children identify their strengths and areas for improvement based on their brain injury or disorder. We help these children and their family members, teachers, and doctors identify new ways to help them think more clearly and learn more effectively both in school and at home. We also help children to understand and strengthen the social and emotional parts of life.
Our experts in children's neuropsychology support all children whose diagnoses require specialized treatment from any family or background, regardless of the resources they have or the treatments they need. We help patients and their family members learn the skills to enable children to succeed in all aspects of their life. We work with children of any age, from babies to young adults.
To schedule an appointment with our children's neuropsychological services, please call us at (414) 955-0660.
We are located on the second floor of the Craig Yabuki Tower.
Who is a pediatric neuropsychologist and what is a pediatric neuropsychology evaluation?
A pediatric neuropsychologist is a psychologist that has earned a PhD or PsyD in clinical psychology and has completed specialized training including a post-doctoral fellowship in neuropsychology. A pediatric neuropsychologist specializes in examining how learning and behavior are related to the development of children's brain structures and systems. A pediatric neuropsychologist specializes in examining how brain injury or disease can impact a child's brain development and their learning and behavior. A few common techniques used by neuropsychologists in his evaluation include puzzles and both computer- and paper-based tasks. After testing, our neuropsychologists interpret the results and provide research-based recommendations to help the child progress and learn at their fullest potential.
Evaluations vary depending on the age and development of the child and why they were referred for an evaluation. Some reasons for referral include:
Determine the child's level of cognitive functioning
Identify changes in brain function as a result of medical/neurological illness or injury
Assist in school and medical treatment planning
Determine level of functioning prior to treatment/intervention (baseline testing)
Determine response to or recovery from treatment/intervention (follow-up testing)
Monitor brain development and guide treatment decisions
Children's neuropsychological evaluations look at various different aspects of brain health and development. Some areas include:
General intellectual abilities
Attention capacity
Executive skills (organization, planning, inhibition or flexibility)
Learning and memory
Language skills
Visual-spatial skills
Fine motor coordination
Behavioral and emotional functioning
Social and academic skills
Neuropsychological Evaluation
Prerequisites for Evaluation
Patient must have a medical, neurological, and/or genetic disorder impacting brain or central nervous system (rare exceptions)
Presenting Concerns/Diagnoses Served
Cognitive dysfunction
Cognitive delays
Changes in cognition
Pre/Post neurosurgery
Impact of medical treatment on cognitive functioning
Evaluation Goals
Differential diagnosis of neurobehavioral syndrome/cognitive dysfunction
Identification of cognitive strengths and weaknesses
Identification of interventions needs
School recommendations
Determine neurosurgical and/or treatment risk
Typical Assessment Tools
IQ/General cognitive functioning
Attention
Executive functioning
Processing speed
Fine motor dexterity
Language
Visual-spatial/nonverbal
Social/Emotional functioning
Typical Recommendations
Integration of cognitive profile for medical treatment/surgical planning
Need for services (e.g., OT, ST, medication, etc.)
School strategies and programming
Therapy approaches and referrals
Psychological Evaluation
Prerequisites for Evaluation
Family expressed concerns to their primary care provider
Patient engaged in mental behavioral health therapy
Presenting Concerns/Diagnoses Served
ADHD
Anxiety disorders
Mood disorders
Traumatic stress
Intellectual disability
Learning disability
Behavior concerns
Evaluation Goals
Differential diagnosis of mental and behavioral disorder
Identification of cognitive and academic strengths and weaknesses
Identification of therapy or medication need
School recommendations
Typical Assessment Tools
IQ/General cognitive functioning
Academic Skills
Social/Emotional functioning
Typical Recommendations
Need for services (e.g., OT, ST, medication, etc.)
School strategies and programming
Therapy approaches and referrals
Parenting strategies to support social and emotional development
Should my child be evaluated by a pediatric neuropsychology expert?
Our clinic typically sees children and young adults with an established medical, genetic or neurological illness or injury who are demonstrating difficulties with learning, development or cognitive functioning (e.g., attention). A few examples of these instances include:
Brain tumors/Cysts
Prematurity/Birth complications
Genetic disorders
In addition to our general clinic, we also offer a Preschool and Infant Neuropsychological Testing (P.I.N.T.) clinic.
What should I expect from pediatric neuropsychology services offered by Children's Wisconsin?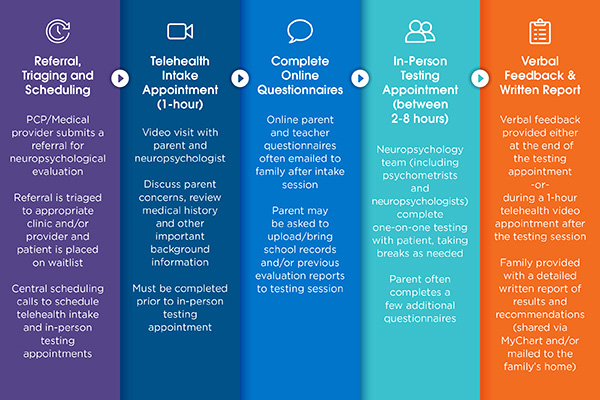 Your pediatric neuropsychological evaluation will be tailored to meet the needs of your child. Depending on the background, the current concerns, and whether they have been evaluated previously, most children's neuropsychology evaluations take between two to eight hours to complete. Depending on the age and needs of your child, testing may be completed in one day or over the course of several days.
You will be asked to participate in an interview (through video visit) regarding your child's developmental history and to complete several questionnaires about your child's emotional and behavioral functioning.
One to two testing sessions may be scheduled. You will be asked to bring with you any records of previous testing or individualized education plans (IEPs) to the testing appointment. On that day, your child will be asked to complete a variety of paper and pencil, puzzle, and computer tasks similar to things he or she may do at school. For very young children and infants, the test session looks more like playtime using familiar toys. Depending on the goal of testing and the child's age, the testing will be conducted by highly trained psychometrists who work with your child in an individualized setting. No medical procedures are involved.
Results of testing and recommendations from the evaluation will be shared with you either at the end of the testing day or during a virtual visit scheduled for a separate day.
Request an appointment
To request an appointment, please call us:

Neuropsychology

(414) 955-0660
Get a second opinion
It's important to know what your options are. We can provide expert opinions to verify or give more information about an initial diagnosis. Contact us today.