Careers in child welfare
Our child well-being programs offer fulfilling and challenging career opportunities for individuals who have a passion for working with children and families involved in child welfare. We are committed to creating an environment for staff to build experiences and skills for a career versus a job. We continuously try to evolve in how we support staff.
Currently we are offering the following experiences for staff:
Various forms of coaching for new hires into the Family Case Management, Intensive In-Home, and Family Support programs.
A supervisor/worker ratio of 1:6
We offer leadership development and mentoring for staff interested in expanding their career opportunities; 84 percent of leadership/supervisor hired in the program since 2010 have been internal hires.
Educational assistance including:

Tuition assistance for staff to put toward a degree program for any position at Children's Wisconsin
Opportunities to participate in University of Wisconsin-Milwaukee's Part-time Title IV-E program, allowing staff to earn their master's degree in Social Work while working
Opportunities to participate in UWM's Full Time IV-E program for eligible staff
Associated challenges of a career in child well-being programs
Can you deal with the emotional drain and trauma of working with abused children?
Are you able to work with children who have been badly mistreated, who are bruised, have broken bones or severe burns?
Are you willing to work with diverse clients across Wisconsin?
Are you willing to occasionally work beyond regular business hours on short notice in order meet the needs of the children and families in our care?
Are you willing and able to work evenings and weekends?
Are you willing and able to have explicit and crucial conversations with children and their families about subjects such as sexual practices and body parts?
Are you willing and able to remove a child from his or her parent's home, if necessary?
Are you willing and able to go into unfamiliar and potentially unsafe neighborhoods, at times alone, to assess the immediate safety needs of a child?
Are you willing and able to visit clients in their homes which may be in various conditions of disrepair or cleanliness?
If you are interested in applying for a position, search for the program titles on the Children's Wisconsin job search website.

Information about typical tasks
Family case management
Completion of safety assessments and develop safety plans
Facilitation of Family Team Meetings
Service coordination
Permanency planning
Caseloads of up to 15 children who are court-ordered into foster care
Frequent presentations of case information in court
Minimal monthly contact with parents of children in foster homes
An average of 6 hours per month facilitating family interactions
Intensive in-home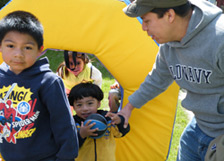 Weekly contact with children and parents in their home
Completion of safety assessments
Develop and oversee in-home safety plans
Facilitating family team meetings
Coordination of community services
Caseload of eight families
Minimal court involvement
Family support
Conducting supervised family interactions using the Visit Coaching Model
Assessment of the parents' skills and capacities through use of the Adult Adolescent Parenting Inventory, Ages and Stages Questionnaire and other tools
Enhancing parents' protective capacities through the Nurturing Parents Program curriculum in one-on-one and group sessions
Support parents in enhancing home management and other life skills
Transportation of children to and from visits with family
Assisting families engage in getting basic needs met through community resources
Featured videos
Find out about becoming a Family Case Manager.
Learn about becoming a Family Support Specialist.