Miles Donnerbauer's story
Baby who underwent Wisconsin's 1st prenatal spina bifida surgery doing well
 
Miles Donnerbauer made history before he was even born. In 2014, he underwent the first prenatal spina bifida surgery in Wisconsin with a multi-disciplinary team of fetal surgeons performing an in utero repair of the spinal defect. This is a complex and highly orchestrated procedure, requiring six skilled providers from various specialties.
We checked in recently with Miles' mom, Melanie Donnerbauer, to see how the family is doing one year later.
"Miles is exceeding our expectations right now," Melanie said, adding that the 16-month-old toddler is standing on his own and has feeling all the way down his legs. "He wiggles his toes, he knows when you tickle him. The other day, he followed his Nana into the kitchen. She didn't know he was coming, but the next thing she knew he was there, hollering at her from the doorway."
It was during Melanie's 18th week of pregnancy that she and her husband, Joe, learned their son had spina bifida, a condition that often leads to complete or partial paralysis, and hydrocephaly (excess spinal fluid in the head). There is no cure for spina bifida, but studies have shown that prenatal repair can give children better outcomes than if it's done after they are born. The Little Chute, Wis., family met with the Fetal Concerns Center team. After thorough testing and evaluation, it was determined Melanie was an excellent candidate for the procedure and they chose to move forward with the surgery while Miles was still in the womb. (Patients have to meet a strict set of criteria to be eligible for prenatal surgery.) They had options to go elsewhere, but they felt comfortable and confident enough to stay close to home. The surgery took place during Melanie's 25th week of pregnancy, and Miles was born six weeks later, weighing only 3 pounds.
Milwaukee's WISN 12 News covered the story in November 2014, and by the time the story aired, Miles weighed nearly 7 pounds and showed movement in his legs.
Now, Miles is meeting almost all of his regular developmental milestones, including verbal and fine motor skills, something that may not been possible without the surgery.
Get a second opinion
(414) 240-1831
Research and outcomes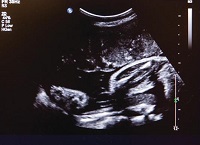 Our outcomes reports help families and partner providers make the most informed healthcare decisions. Learn more about our surgical outcomes and current research studies.
Contact us
For additional information on the Fetal Concerns Center at Children's Wisconsin, please call:
Fax: (414) 337-1884
Note: These phone numbers should not be used for urgent medical concerns. Please contact your physician directly if your situation requires immediate attention, or dial 911 if it is an emergency.