Patient stories
Madelyn's story: CPAM
Stephanie Herian's first pregnancy was sailing along until her 20-week ultrasound. She and her husband, Rick, residents of Port Washington, were excited to learn their child was a girl, whom they named Madelyn. But her doctor found a spot on the baby's lung. "It was a concern, but nothing too alarming," said Stephanie.
Her doctor continued to monitor the spot, and at first, nothing changed. Then at 28 weeks, it had grown considerably and Stephanie was referred to the Fetal Concerns Center at Children's Wisconsin with a suspected diagnosis of congenital pulmonary airway malformation (CPAM), a rare birth defect in which a mass of abnormal tissue grows in the lung. Read her story.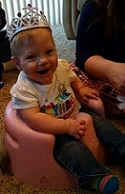 Paisley's story: Spina bifida
First birthdays are always special. But when you've gone through what little Paisley and her family have, getting there means so much more than a candle on a cake.
About 24 weeks into her pregnancy, Paisley's mom, Stephanie VanEffen, was told her baby had spina bifida, a birth defect that causes paralysis. There is no cure for spina bifida, and until very recently, there wasn't much that could be done to make the situation better. Read her story.
Miles' story: Spina bifida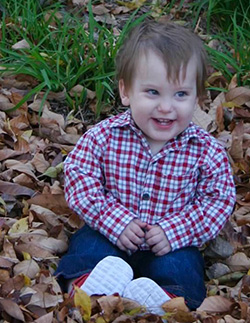 Miles Donnerbauer made history before he was even born. In 2014, he underwent the first prenatal spina bifida surgery in Wisconsin with a multi-disciplinary team of fetal surgeons performing an in utero repair of the spinal defect. This is a complex and highly orchestrated procedure, requiring six skilled providers from various specialties.
We checked in recently with Miles' mom, Melanie, to see how the family is doing one year later. Read their story here.
Mason's story: Congenital pulmonary airway malformation
Before he was born, doctors diagnosed Mason with congenital pulmonary airway malformation. This means cysts had formed in his lungs, and they were pressing on his heart. Because his heart was not working well, fluid built up throughout his little body, leading to an often-fatal condition called hydrops.
Several doctors told Mason's parents that nothing could be done to save their unborn son. They were referred to the Fetal Concerns Center at Children's Wisconsin 22 weeks into the pregnancy. Doctors at the Fetal Concerns Center knew that delivering an extremely premature baby with only one working lung and hydrops would certainly lead to death, but Mason would die before birth if doctors did nothing.
Mason's family and the doctors decided to take action. Before Mason was born, a shunt was used to drain the largest cysts to take pressure off his heart and allowed the pregnancy to continue.
Mason was born about 8 weeks early and spent the next 6 weeks in the Neonatal Intensive Care Unit at Children's Wisconsin, where he had surgery to remove part of his right lung. But today, Mason is an active, healthy boy. Doctors predict that both lungs will be healthy and normal by the time Mason turns 8.
Evan and Owen's story: Twin-twin transfusion syndrome
Learn about the care Heather received for twin-twin transfusion syndrome during her pregnancy with Evan and Owen.
Branda's story: EXIT procedure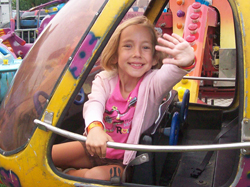 Before she was born, doctors found a large mass blocking Branda's airway. Branda's parents were referred to the Fetal Concerns Center, where doctors and nurses helped her parents understand her condition and plan treatment that could save her life.
To save Branda's life, doctors at Children's Wisconsin and Froedtert and the Medical College of Wisconsin teamed up to perform one of the first EXIT procedures in southeast Wisconsin. During this procedure, doctors performed surgery on Branda before birth, while she still was getting oxygen through the umbilical cord. They created an airway for her so that she would be able to breathe at birth. After the surgery, doctors delivered Branda 8 weeks early.
After Branda was born, doctors determined the tumor could not be removed. She spent about 70 days in the Neonatal Intensive Care Unit at Children's Wisconsin.
Through the years, Branda's tumor shrunk and then disappeared by itself, without treatment. Today, Branda is a healthy, happy girl that runs and plays like any other child.
Gannon's story: Hypoplastic left heart syndrome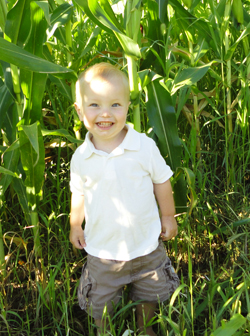 Before birth, Gannon was diagnosed with hypoplastic left heart, which means that the left side of his heart was underdeveloped and could not function properly.
Gannon's family was referred to the Fetal Concerns Center. Doctors and nurses in the program helped Gannon's parents understand everything about their baby's heart condition and treatment and plan for their baby's care.
Gannon spent the first 7-1/2 weeks of his life at Children's Wisconsin, during which he had an abdominal surgery and the first of three surgeries required to fix his heart.
However, after the second heart surgery, Gannon wasn't doing well. Physicians decided that he needed a heart transplant. One week later – at age 10 months – he was placed on the transplant list. The family waited 96 days for a new heart.
Today, Gannon is doing very well.
Our outcomes reports help families and partner providers make the most informed healthcare decisions. Learn more about our surgical outcomes and current research studies.
For additional information on the Fetal Concerns Center at Children's Wisconsin, please call:
Fax: (414) 337-1884
Note: These phone numbers should not be used for urgent medical concerns. Please contact your physician directly if your situation requires immediate attention, or dial 911 if it is an emergency.