Baseline concussion testing
Did you know middle school athletes should receive a baseline concussion test every year and high school athletes every other year? Baseline concussion tests assess an athlete's balance and brain function and are given to healthy athletes before physical activity begins. After a suspected concussion occurs another test may be done. The results are compared to measure the athlete's brain function before and after the injury. This helps sports medicine specialists improve concussion care and make return-to-play decisions.
How to schedule testing
Baseline concussion testing is offered for a $25 fee and are available at the following locations:
Please call our concussion line at (414) 337-8000.
About our tests
Children's uses ImPACTTM and CognigramTM computerized evaluation tests, which are commonly used in organized high school sports, the NCAA and professional/elite/Olympic athletics. These tests measure:
Verbal and visual memory
Attention span
Brain processing speed
Reaction time
We also administer two other tests:
The Balance Error Scoring System (BESS) which is an objective method of assessing static postural stability and balance.
The King-Devick Test is an objective, physical method of evaluating visual tracking and quick eye movements.
Baseline balance and vision testing can help physicians and athletic trainers make comparisons following a concussion.
Contact us
To help ensure that we provide the best care for young athletes and families, Children's Wisconsin offers a special Concussion Line (from 8 a.m. to 4:30 p.m. Monday through Friday). We will promptly answer your questions or concerns. A licensed athletic trainer monitors and answers the Concussion Line. You can leave messages at anytime. We'll quickly return your call.
(414) 337-8000
Concussion awareness wallet card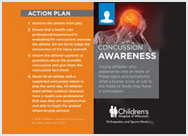 Children's Wisconsin provides concussion awareness information to the community. Order our free concussion awareness wallet card.
Concussion law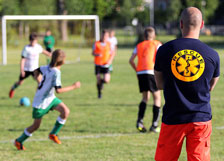 What parents need to know about Wisconsin's concussion law. Read the story on our blog - NewsHub.