Athletic training services
What is an athletic trainer?
Athletic trainers are licensed health care professionals who collaborate with physicians to provide medical care of sports injuries and medical conditions through:
Injury prevention
Clinical evaluation and diagnosis
Immediate and emergency care
Treatment and rehabilitation
Athletic trainers are required to obtain a bachelor's degree from an accredited program, however over 70 percent hold a masters degree or higher. Additionally, athletic trainers are required to pass a national board exam, obtain a license to practice in the state of Wisconsin, and complete continuing medical education throughout their career.
Athletic trainers at Children's Wisconsin
The licensed athletic trainers at Children's work in clinic with the Primary Care Sports Medicine Physicians, Orthopedic Sports Surgeons and Orthopedic Spine Surgeons in addition to providing sideline medical coverage for our community partners at local sporting events. The utilization of the athletic training staff in clinic, as well as on the sidelines, helps us stand apart in bridging the gap between real time injury management and access to physician services within the Children's system.
Athletic training services
The athletic training staff is available to provide:
Medical event coverage
Injury screenings
Concussion baseline testing
Referrals and access to our sports medicine specialists
Educational events and coaches clinics
Community partnerships
Who we work with
We partner with high schools and club sports organizations across Wisconsin.
High schools
Milwaukee Lutheran High School
Waukesha West High School
Waukesha North High School
Waukesha South High School
Clubs and organizations 
Athletic training
To speak with a sports medicine expert or request an appointment, call:
(414) 604-7250
Licensed athletic trainers and nurses are available 8 a.m. to 4:30 p.m., Monday through Friday. You can leave a message anytime, and your call will be answered as soon as possible.
Request a speaker from our orthopedics and sports medicine team.
Growth plates: Why choose us?
If growth plates don't heal properly, it can lead to long-term problems.
Growth plates 101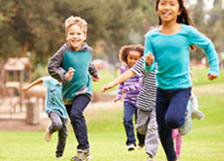 Why pediatric experts are best equipped to treat growth plate fractures in children.