Sports medicine physical therapy
Children's Wisconsin offers sports medicine physical therapy services for active children and adolescents. We specialize in sports-related orthopedic overuse injuries, pre- and post- op rehabilitation, concussions, and idiopathic scoliosis, among other diagnoses.
Each clinic provides therapy within a 3,000-square-foot gym equipped with state-of-the-art and sport specific equipment. Focused therapy programs help kids return to their sports and recreational activities by emphasizing:
Agility
Balance
Competitive performance
Concussion recovery
Endurance
Mobility
Power
Speed
Strength
Dry Needling
Manual Therapy
Manipulation/mobilization techniques
Our programs
Our treatment approach is based on the latest research, education, injury management, and prevention methods. Our specialty programs include:
Pre-operative and post-operative ACL rehabilitation
Comprehensive overhead and throwing athlete
Dance Medicine
Concussion rehabilitation
Spine
Running analysis and treatment
Sport specific rehabilitation and conditioning
Analysis and evaluation of body mechanics including running, throwing and golf swing techniques
Special computerized equipment to test and improve muscular strength and endurance
Meet our physical therapists
To request an appointment with a sports physical therapist please call central scheduling:
(414) 604-5280
Request a speaker from our orthopedics and sports medicine team.
Growth plates: Why choose us?
If growth plates don't heal properly, it can lead to long-term problems.
About orthopedic surgery
Watch Dr. Lyon discuss pediatric orthopedic surgery at Children's Wisconsin.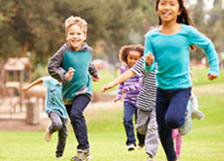 Why pediatric experts are best equipped to treat growth plate fractures in children.