Sports nutrition counseling services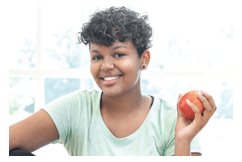 Our Sports Medicine Program offers sports nutrition counseling services at our Greenfield Clinic. These consultations provide support to athletes and families who have questions on proper nutrition for peak performance and injury prevention. Our nutrition counseling services can help set your athlete up for success with:
Hydration and fluid recovery
Eating for top sports performance
Preventing early fatigue
Injury recovery and prevention
Supplements and other performance enhancers (i.e. protein shakes and energy drinks) and where they fit in a young athlete's diet
A nutrition counseling session is held as a one-on-one consultation with a registered dietician who is an expert in sports nutrition and can provide guidance to young athletes in managing their diet both during the season and in the off-season. Consultations can also provide a chance to develop a personalized nutrition plan based on the athlete's current diet and his or her performance goals.
Our sports nutrition specialist
A registered dietician is a food and nutrition expert who is certified by the state of Wisconsin. Our registered dieticians also have advanced training to care for children and teenagers. The dietician in this clinic specializes in nutrition issues related to sports.
Call for an appointment
For a nutrition counseling appointment, please call the Children's Wisconsin Sports Line at (414) 604-7512. A dietician may contact you for more information prior to the appointment.
Payment
Please call (414) 604-7512 for cost and appointments;
Payment is required at the time of service;
Payment may be made by check or credit card;
Services may be covered by insurance. We provide you with a receipt to submit to your health insurance company for possible reimbursement. Contact your health insurance company for more information.