Interstage Home Monitoring Program
Boosting survival for babies with HLHS and single-ventricle heart conditions
Learning that your baby has been diagnosed with hypoplastic left heart syndrome (HLHS) or any other "single ventricle" heart condition brings new worry and questions for you as a parent. The specialists with the Herma Heart Institute's Interstage Home Monitoring Program, the first of its kind in the nation when introduced in 2000, are here to support you and your baby. The Interstage Home Monitoring Program is one of the key reasons nearly all children treated at Children's Wisconsin for single ventricle heart defects lead long and healthy lives. Before 1980, babies born with HLHS did not live to celebrate their first birthdays. Today, the Herma Heart Institute has the best published survival rates in the world for treating HLHS. In fact, since 2006, survival during the interstage period has been 100 percent for babies involved in our home monitoring program who have undergone a Norwood procedure, the first conducted to correct HLHS.
Why the interstage home period is critical
If your baby has a single ventricle heart defect, one of the heart's pumping chambers might be underdeveloped or smaller than normal. As a result, blood cannot circulate through the heart and lungs in the usual way.
It is typical that multiple heart surgeries are required to provide the best possible blood circulation for your baby. The first surgery, performed when your baby is several days old, involves placing a small shunt (a specially designed tube) to allow blood flow from the heart to the lungs. This shunt will be removed during a second surgery.
The time between the first and second heart surgeries is commonly known as the "interstage period." It is a vulnerable stage of life for your baby. It requires extra monitoring to prevent serious complications, ensure optimal growth and ultimately improve not only chances of survival, but also quality of life.
How interstage home monitoring makes a difference
Before babies go home from the hospital after the first heart surgery, the Interstage Home Monitoring Team provides families with a home monitoring plan that helps parents and caregivers track their baby's weight, oxygen levels (saturations), and fluid intake each day while at home. The team provides a set of criteria or "red flags" that indicate changes in your baby's health. Parents also receive a pager number that gives them direct access to interstage team members, enabling them to quickly report concerns so that our specialists can intervene as soon as possible. Team members also work closely with the baby's pediatrician or primary care physician, cardiologist and home care nurses to make sure all needs are met during the interstage period.
Round-the-clock support, high-tech monitoring and regular checkups
A member of the Interstage Home Monitoring team is available for parents 24 hours a day, seven days a week, to review changes in their baby's health and address questions or concerns.
The Interstage Home Monitoring Program app helps parents of children born with hypoplastic left heart syndrome who undergo reconstructive surgery to efficiently monitor the critical period between surgeries at home. The app instantly records and shares information such as feedings, vital signs and notes with the Herma Heart Institute's IHM Program care team. It keeps the team informed of immediate needs and helps track your child's progress as they grow and gain strength for their next surgery.
Additionally, every couple of weeks, babies involved in the program are seen in the Interstage Clinic for a physical examination and to assess overall health.
Empowering parents and other caregivers
In addition to teaching specifics of home monitoring, the Interstage Home Monitoring team works closely with parents to help them feel confident about caring for their baby at home. They help parents and caregivers learn what health changes to look for in their baby and when to call with concerns. They provide best-practice advice on topics such as baby's diet, safe sleep and car seat safety, and help prepare parents to care for their child when a fever or illness, constipation or other common infant health concern occurs.
The Interstage Home Monitoring Team
Many dedicated professionals make up the Interstage Home Monitoring Program team. They are cardiologists, cardiac intensive care specialists, pediatric heart surgeons, nurse practitioners, dietitians, speech therapists and feeding specialists, all experts in caring for the needs of infants with single ventricle heart defects.
Visit our Interstage Resource page for more helpful information.
Contact the Interstage Home Monitoring Program
To make an appointment or talk to an interstage home monitoring expert at the Herma Heart Institute, contact us or call
(414) 607-5280
Get the Interstage Home Monitoring Program app!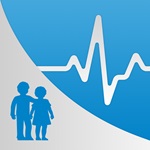 Our exclusive app helps parents of children born with hypoplastic left heart syndrome work together with Herma Heart Institute staff to manage the critical period between a child's surgeries.

Contact the Interstage Home Monitoring team to learn more or get download instructions for the app.
Innovations improve outcomes