Pediatric cardiac catheterization
Diagnosing and treating heart disease without surgery
Children's Wisconsin offers all cardiac catheterization options for successfully diagnosing and treating pediatric and adult patients with complex congenital (present at birth) heart conditions. This may result in patients avoiding surgery and benefiting from less anesthesia time, less pain, faster recovery and shorter hospital stays. Children's is proud to be one of the few pediatric heart institutes in the Midwest to have two state-of-the-art hybrid cath labs (operating room-caliber imaging suites) and three pediatric specialized catheterization doctors. Access to the cath labs gives our cardiologists the flexibility to plan complex or multiple combined catheter and surgical procedures for a patient in the same procedure, if they feel it is best for the patient.
During a catheterization, cardiologists insert long, flexible tubes (catheters) into veins and/or arteries of the legs, arms or neck, and guide them into the heart or surrounding blood vessels using X-ray imaging. The catheters can be adapted to help perform a variety of diagnostic or interventional (treatment) techniques. The blood vessels are entered in a way to minimize blood loss. Most patients go home the same day of the procedure or the next day. Learn more about the procedure. 
Highly experienced cardiologists at Children's perform catheterizations on people of all ages – from newborns immediately after birth to those of advanced age, as referred by our  Adult Congenital Heart Disease Program. These procedures, along with electrophysiology treatments for irregular heartbeats (arrhythmia), are performed in a specialized operating room or cath lab. With an emphasis on quality and safety, our specially trained team performs about 500 cath lab procedures each year.
Interventional cardiac catheterization to correct heart problems
Many congenital heart or blood vessel problems can be corrected with cardiac catheterization procedures. With very small incisions, specialized equipment and precise imaging, interventional cardiologists at Children's treat complex conditions, including:
Holes in the heart, such as atrial septal defects (ASDs) in the heart's upper chambers, patent ductus arteriosus (PDAs) between the aorta and pulmonary artery, and ventricular septal defects (VSDs) between the heart's lower pumping chambers. These conditions, as well as abnormal blood vessels ("collaterals"), can be closed so the heart pumps blood and oxygen more efficiently.
Pulmonary valve problems requiring replacement, using advanced catheter-placed valves, such as the Melody, Sapien and our newest technology, the Harmony valve. These devices help to restore function or delay the need for surgery for many patients.
Narrowed arteries or veins, which can be stretched by briefly inflating a small balloon or propped open with a stent, a metal tube that is expanded in a narrowed area and left in place (with aortic coarctation stenting and pulmonary artery or vein stenting being our most common stents).
Narrowed pulmonary or aortic valves, which can be stretched with balloons (pulmonary or aortic valvuloplasty) to allow them to open better and to prevent or delay the need for open-heart surgery.
Procedures in babies to increase blood oxygen levels and better stabilize them before open-heart surgery (atrial septostomy, ductal stenting) or to close conditions that making it hard for their lungs to work properly (Piccolo device for closure of patent ductus arteriosus in premature newborns as small as 700g).


 
The Herma Heart Institute has more full-time pediatric interventional cardiologists on staff than any other heart program in the state, so our care team is always available when needed.
Diagnostic cardiac catheterization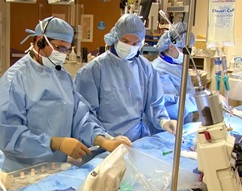 Cardiologists assess heart problems using specially equipped catheters to measure pressures and oxygen levels in the different areas of the heart and surrounding blood vessels. Special dye is injected through these catheters and, using X-ray equipment, the patient's internal anatomy can be seen more clearly, helping the surgical team or catheterization team make the patient better. These catheters also allow the cardiologist to take tissue samples (common for those who have had a heart transplant) or evaluate the effects of certain medications (common for patients with pulmonary hypertension). After the procedure is done, there is usually just a bandage at the site where the catheters entered, eliminating the need for stitches since the entry point is very small.
Get a second opinion
If your child was born with heart disease or a heart defect, consider getting a second opinion to help confirm the original diagnosis, and get the information you need to find the right care.
Cardiac cath lab: What to expect