Pediatric cardiac catheterization
Diagnosing and treating heart disease without surgery
Children's Wisconsin offers all cardiac catheterization options for successfully diagnosing and treating pediatric and adult patients with complex congenital (present at birth) heart conditions. As a result, many patients avoid surgery and benefit from less anesthesia time, less pain, faster recovery and shorter hospital stays. As one of the few pediatric heart institutes in the Midwest to have a hybrid cath lab, our cardiologists also have the flexibility to plan two or more combined procedures for a patient in a single trip to the operating room.
Highly experienced cardiologists at Children's perform cardiac catheterizations (cardiac caths) on people of all ages – even newborns immediately after birth. Our Adult Congenital Heart Disease Program  offers cardiac catheterization for older children and adults, as well. These procedures, along with electrophysiology treatments for irregular heartbeats (arrhythmia), are performed in the cardiac cath laboratory (cath lab). With an emphasis on quality and safety, our specially trained team performs more than 450 cath lab procedures each year.
During a cardiac cath, cardiologists insert long, flexible tubes (catheters) into veins or arteries of the legs or arms and guide them into the heart or surrounding blood vessels. The catheters can be adapted with scopes, balloons and other tools to help perform a variety of diagnostic or interventional (treatment) techniques. Learn more about the procedure.
Interventional cardiac catheterization to correct heart problems
Many congenital heart or blood vessel problems can be corrected with cardiac catheterization procedures. With very small incisions, tiny instruments and precise imaging, interventional cardiologists at Children's treat complex conditions including:
Holes in the heart, such as atrial septal defects (ASDs) in the heart's upper chambers, patent ductus arteriosus (PDAs) between the aorta and pulmonary artery, and ventricular septal defects (VSDs) between the heart's lower pumping chambers. These conditions, as well as abnormal blood vessels, can be closed so the heart pumps blood and oxygen more efficiently.
Pulmonary valve problems requiring replacement, using the advanced implantable Melody® valve device to restore function or delay the need for surgery for many patients. Herma Heart Institute was the first program in the state to be accredited for use of the Melody device.
Narrowed arteries or veins, which can be stretched by inflating a small balloon or propped open with a stent, a miniscule metal structure that is expanded in a narrowed area and left in place (aortic coarctation stenting).
Narrowed pulmonary or aortic valves, which also can be stretched with balloons (pulmonary or aortic valvuloplasty) to prevent or delay the need for open-heart surgery.
Transposition of the great arteries, treated in some cases with interventional catheterization to increase blood oxygen levels and better stabilize babies before open heart surgery.
The Herma Heart Institute has more full-time pediatric interventional cardiologists on staff than any other heart program in the state, so our care team is always available when needed.
Diagnostic cardiac catheterization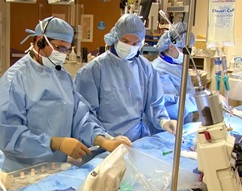 Cardiologists diagnose heart disease using specially equipped catheters. Scopes can be directed to the heart and surrounding structures to take pictures (angiograms) and give specialists a close look at a patient's chest anatomy from the inside. Other tools help them measure blood pressure from within the veins and vessels, take tissue samples (common for those who have had a heart transplant), determine oxygen levels and evaluate the effects of certain medications.
If your child was born with heart disease or a heart defect, consider getting a second opinion to help confirm the original diagnosis, and get the information you need to find the right care.

Among the nation's best 
U.S. News & World Report has once again ranked the Herma Heart Institute at Children's Wisconsin among the top programs in the nation for pediatric cardiology and heart surgery. This ranking reflects the excellent outcomes and care we provide for even the most complex heart conditions. Families travel from across the country, and even around the world, to receive care from our specialists who are experienced in treating congenital heart disease from before birth and into adulthood.
Read the Report
Cardiac cath lab: What to expect