Pediatric Pulmonary Hypertension Program
Our Pulmonary Hypertension (PH) Program is one of a handful of specialized pediatric pulmonary hypertension care centers across the country and the only one in Wisconsin to be nationally accredited by the Pulmonary Hypertension Association as a Center of Comprehensive Care. This is the highest designation possible and reflects our expertise in leading-edge diagnostic and treatment approaches that help pediatric patients of all ages with pulmonary hypertension live life to the fullest.
Offering the latest in pulmonary hypertension treatments in children and infants
The best treatment for pulmonary hypertension differs for each child. At Children's Wisconsin, recent treatment advances have greatly increased our success in helping kids manage PH symptoms. As our reputation for quality care continues to expand nationwide, more families choose Children's to care for their children with this condition.
Our Pulmonary Hypertension Program is also proud to be part of the Pediatric Pulmonary Hypertension Network (PPHNet), a network of 14 pediatric centers that are experts in the management of pulmonary hypertension. Together, these centers collaborate through research, education and quality improvement to directly improve patient care for this rare condition. 
Experienced experts
Our team of board-certified pediatric cardiologists and nurse practitioners are specifically trained to care for kids with pulmonary hypertension. They use state-of-the-art diagnostics to find a correctable cause for your child's condition. They then create a pulmonary hypertension treatment plan that is developed specifically for your child. Follow-up care is provided at several convenient locations.
As necessary, program physicians work closely with other heart and lung experts to meet your child's needs, including pulmonologists (lung doctors) and heart surgeons who specialize in congenital heart defects. Other pediatric specialists such as cardiac anesthesiologists, psychologists, social workers and nutritionists – all with advanced training in pulmonary hypertension treatment – are here to make sure all of your child's needs are met.
Additionally, our pulmonary hypertension experts are part of the specialized Pulmonary Vein Stenosis group within the Herma Heart Institute. This group — comprised of cardiologists, interventionalists and surgeons — manages the care of patients living with pulmonary vein stenosis, a condition that often ultimately results in pulmonary hypertension. By having this specialized team, the effects of pulmonary vein stenosis are often managed better and can defer the risk of pulmonary hypertension. 
Services offered
The Pulmonary Hypertension Program staff make it easy for you and your child to get all the care you need, including:
Advanced diagnostics, including echocardiography, cardiac catheterization, cardiac MRI, CT, and cardiopulmonary exercise testing
Multiple medical treatment options including oral, intravenous (IV), injected and inhaled therapies
Participation in multicenter drug trials
Access to all the pediatric specialists your child would ever need, right at Children's Wisconsin
Family involvement
We know how important it is for families to be involved in their child's care. At Children's, we work hard to keep you informed so you feel ready to make decisions. We follow-up with our patients for as long as necessary to make sure treatments continue to help your child live an active, healthy life to the fullest extent possible.
Nationally-accredited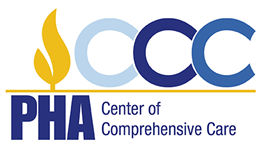 Having met the highest standards for diagnosis and disease management, our Pulmonary Hypertension (PH) Program was one of the first pediatric centers in the country and the only one in the state accredited as a Center of Comprehensive Care, the highest designation possible.
Harli's pulmonary hypertension care helps avoid transplant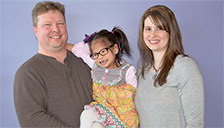 Harli's parents looked across the country before finding the expertise she needed at Children's Wisconsin. Learn more on our blog or on Today's TMJ4.