Advanced non-invasive tests for heart disease
When concerns are raised about your child having heart disease, getting an accurate diagnosis is a critical first step toward getting the best available treatment, even before birth. As a national leader in providing heart care, the Herma Heart Institute offers advanced diagnostic technology and specially trained staff dedicated to caring for patients with congenital heart disease before and after birth. Among the advanced non-invasive heart tests we provide are the following:
Herma Heart Institute staff have access to the full range of diagnostic tests your child may need to definitively assess his or her heart condition. See more heart tests.
Experience leads to better outcomes
Research shows that better patient care and better outcomes are possible at hospitals that treat a large number of patients. Herma Heart Institute specialists are leaders in diagnosing the most complex heart conditions and our institute is among the top ten in the country for diagnostic procedure volumes. We perform nearly 15,000 diagnostic heart tests each year, including more than 10,000 echocardiograms, 300 cardiac magnetic resonance imaging (cardiac MRI) procedures and 20 to 30 cardiac computerized tomography scans (cardiac CT).
Nationally consulted echocardiography experts
Echocardiography (echo) is an ultrasound of the heart. It provides a detailed, "real time" moving image of heart structures. Known nationally for their expertise in echocardiography, specialists at Children's Wisconsin review echocardiograms sent by physicians across the country to help diagnose congenital heart disease in their patients, or to provide a second opinion. Tele-echocardiography allows doctors at remote hospitals to electronically send echo pictures to the Herma Heart Institute for our doctors to interpret. Our Echocardiography Research Core Lab serves as a resource to interpret echo studies for large multi-institute research projects from around the country. We have helped test new ways of using echo information to predict outcomes for children with congenital heart problems. Currently, our Echocardiography Lab is the only site responsible for analyzing all echocardiograms performed as part of national research studies of patients with hypoplastic left heart syndrome enrolled in the Single Ventricle Reconstruction trial. The lab is also providing measurements for a study of normal hearts, which will act as a reference. These research studies involve many of the largest pediatric heart programs in the country.
Keeping patients comfortable to improve results
From a patient's perspective, diagnostic tests can be long, noisy and sometimes uncomfortable. We do all we can to keep patients as comfortable and pleasantly distracted as possible so that test results are accurate and procedures don't need to be repeated.
We have seven dedicated diagnostic rooms in our echocardiography laboratory, which helps us keep patient appointments on schedule. Patients under age 2 are often given medicine (sedation) before the echocardiogram so that they can relax and stay still. If sedation is given, a nurse carefully monitors patients during the procedure. For safety reasons, sedated patients recover in a "sedation bay," which is located within the Herma Heart Institute. We continue to monitor them in the sedation bay until they are fully awake and the medicine has worn off.
Choosing a heart hospital?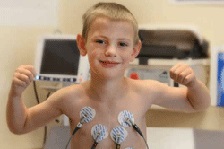 Find tips for deciding whom to trust with your child's heart surgery in a blog written by Peter Frommelt, MD, pediatric cardiologist and professor at the Medical College of Wisconsin.
Let us help you
Coming from out of town?
Traveling with a sick child to a new city can be stressful. We can make your visit to our hospital as easy as possible.
Traveling here locally?
Contact us for more information about the Herma Heart Institute. Request an appointment online or call (414) 607-5280 or toll-free (877) 607-5280.