Fontan Survivorship Program
Fontan Protocol | The Fontan Survivorship Program | Research in Fontan | Other services for Fontan patients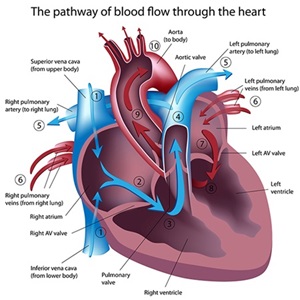 The Fontan procedure is the final operation of the staged heart surgeries performed to address hypoplastic left heart syndrome and other single ventricle heart defects (such as atrioventricular canal and pulmonary atresia). It is usually performed between the ages of 18 months and three years. This procedure reroutes the circulation in the body to allow all the blood returning from the body to pass through the lungs. With this procedure, patients tend to have nearly normal amounts of oxygen in their blood and often have improved exercise tolerance.
The national aggregate post-operative survival rate for the Fontan procedure is 99%. The Herma Heart Institute is proud to have 100% post-operative survival to hospital discharge following the procedure. Learn more about our volumes and outcomes.
The need for a Fontan Survivorship Program
While the short term outcomes for children who have had the Fontan operation are quite good, over time most — if not all — patients will experience complications from their heart's unique circulation. Over the last few decades, long-term survival and surgery outcomes after the Fontan procedure have improved, and the medical community has begun to learn about the possible complications that can arise later in life. These "Fontan-associated" diseases may impact not just the heart, but other parts of the body such as the lungs, gastrointestinal system, liver, as well as growth and other aspects of the child's health and development.
The Fontan Protocol
Each and every person with Fontan circulation is unique. The number of complications, when the complications occur, and the severity of the complications can vary greatly from patient to patient.
In an effort to detect and address potential complications sooner, the Herma Heart Institute created a Fontan protocol. The protocol begins with regular testing, starting soon after the Fontan operation and during regularly scheduled follow-up appointments. These tests occur as frequently as once per year and as infrequently as once every three years. Tests typically increase in frequency once patients reach adolescence and adulthood.
The creation of the Fontan Protocol has increased the identification of heart-related and non-heart-related abnormalities in patients with Fontan circulation and has since been adopted and modified by other institutions. Following identification of an abnormality, the patient is then referred to Children's Wisconsin's Fontan Survivorship Program for additional assessment and specialized care as needed.
A multidisciplinary program to address Fontan complications and rehabilitation
The Herma Heart Institute developed the Fontan Survivorship Program in 2016 to address the special needs of children, adolescents and adults born with single ventricle heart disease. This program cares for patients in a multidisciplinary clinic that includes specialists in pediatric cardiology, adult congenital heart disease, heart failure and transplant, pulmonary medicine, gastroenterology and hepatology, endocrinology, psychology and nutrition. Together, the team provides a comprehensive assessment and treatment plan for both heart-related and non-heart-related abnormalities, with the goal of improving long-term outcomes and quality of life. Meet our Fontan Survivorship Program team.  
Fontan survivorship research 
With individuals with Fontan circulation surviving longer and longer into adulthood without the need for a heart transplant, there is a need for further research to help prevent and treat Fontan-associated diseases. The Herma Heart Institute partners frequently in multi-center research projects focused on Fontan circulation. Below are a few of the recent efforts and publications from team members:
Other services for individuals with Fontan circulation
The Herma Heart Institute has created several programs that help improve the quality of life for congenital heart disease patients. 
The School Intervention Program is available at no charge to Herma Heart Institute families and serves as an advocate for parents of and students with congenital heart disease in the classroom environment. With the guidance of a School Intervention Specialist, each patient's school needs are assessed and interventions are individualized based on the specific needs and goals of each patient in collaboration with their school. The School Intervention Specialist also serves as a liaison between the hospital, the family, and the school to ensure clear and consistent communication at all times.
Steppin' It Up, a cardiac physical activity program, is offered to patients with Fontan circulation to help them feel better and stronger, and more confident in physical activities. During this yearlong program, participants are given at-home physical activities and group activities, alongside a toolkit that includes exercise videos, handouts and wearable activity trackers. With the help of an exercise mentor, or "buddy," participants learn and make exercise a part of daily life for them and their families. This program is overseen by experts in cardiology, exercise physiology psychology and physical and occupational therapy, and has seen positive results in helping children with Fontan circulation become and stay active.