Questions to ask your child's heart center
It's hard to hear the words, "There is something wrong with your baby's heart." But there is hope. Thanks to new and better treatment, your baby's chance of surviving is better with the right care.
After receiving a diagnosis, many families don't know the questions to ask when selecting a cardiac care center for their child. To help guide families through this difficult time, the Conquering CHD (formerly Pediatric Congenital Heart Association), a parent-led national organization and advocacy group, developed the Guided Questions Tool to help families make more informed care decisions and select the best cardiac care center for their child.
In an effort to be as proactive and as transparent as possible for families, the Herma Heart Institute (HHI) has supplied answers for each of the Conquering CHD's questions and are available below. Throughout this page, additional videos are available featuring HHI and Conquering CHD staff that will provide more detail to the questions and answers provided.
Because this information may be unfamiliar or hard to understand, we strongly encourage you to ask questions of your cardiologist or care team so they can help clarify.
Download a copy of the Herma Heart Institute's answers to the Guided Questions Tool.
Cardiac catheterizations may be used to assess and/or treat some heart conditions. We perform about 500 procedures in the cardiac catheterization lab each year. This includes both cardiac catheterizations and electrophysiology (EP) procedures. During cardiac catheterizations, x-ray equipment, special dye (contrast) and long, flexible tubes (catheters) are used to visualize blood flow through the heart and vessels. These catheters are special in that they allow interventions upon structures within the heart, such as valves or blood vessels. Catheter procedures are less invasive than open heart procedures. Your doctor will let you know whether catheterization is needed for your child's condition. Electrophysiology procedures done in the catheterization lab also use specialized catheters. These catheters help to diagnose, map, and treat the origin of abnormal rhythms.
Below is a list of operations that STS refers to as benchmark operations. Please note that operations for patients with single ventricle anatomy are part of the benchmark operations but are displayed in their own table. The national survival rate for these operations is shown, based on data from the Society of Thoracic Surgeons (STS).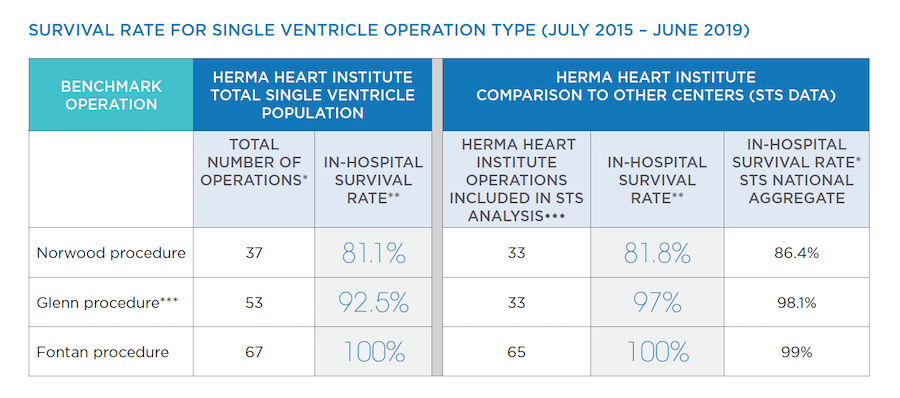 *In-hospital survival rate means that infants survived at least 30 days after surgery and through discharge from the hospital.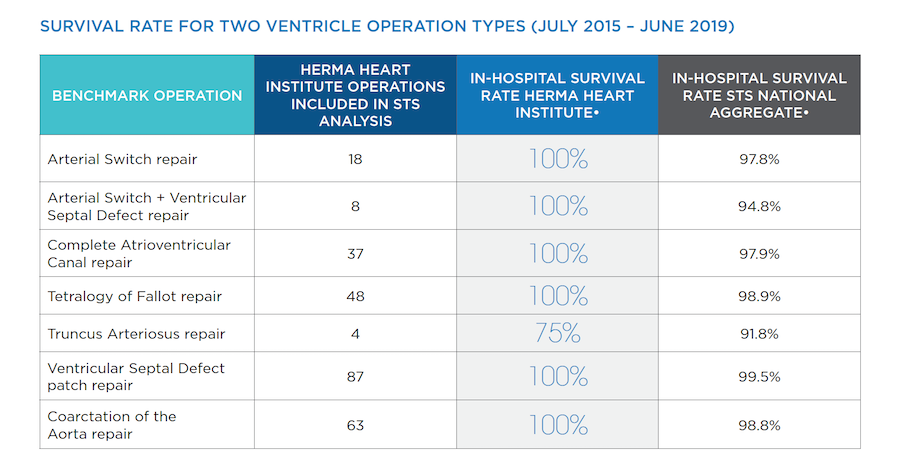 *Total number of operations – The left hand side of this chart shows the total number of operations performed at the HHI. When analyzing and comparing outcomes between centers, the STS only counts an operation when it is the first one during a child's hospital stay. Often the sickest babies need to have a temporary procedure to allow them to get better before undergoing the Norwood procedure and so their Norwood isn't counted in the STS report. Also, many patients who do not go home between Norwood and Glenn are the most medically fragile. They are not counted in the STS report. In order for you to understand how our outcomes compare to other centers, the right hand side of this chart includes the patients that STS includes in their analysis with survival rates both at our center and all combined STS centers.
**In-hospital survival rate means that infants survived at least 30 days after surgery and through discharge from the hospital.
***Patients who had Glenn and Norwood procedures during the same hospital admission are only categorized as Norwood in the STS data.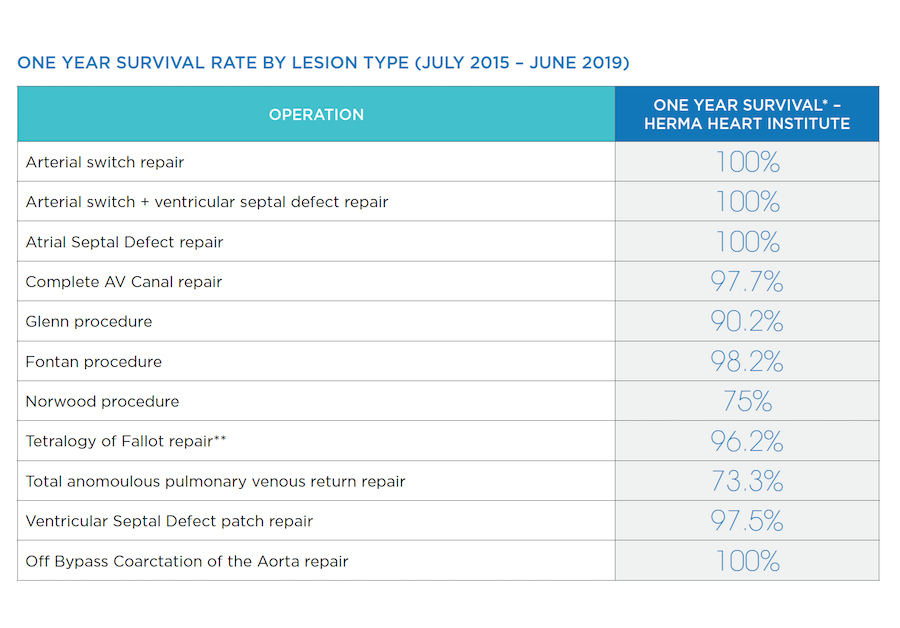 *One year survival rate includes only patients from Wisconsin because we are not able to track patients who come from other states. STS does not currently report one year survival rates across centers.
**Tetralogy of Fallot – this category does not include those patients with pulmonary valve atresia, absent pulmonary valve, atrioventricular canal, and major aortopulmonary collateral arteries.
---
Question 3: What are the most likely complications or three things that can go wrong with this procedure and how often do they happen within one year of this procedure?
Bleeding, abnormal clotting, feeding difficulties, abnormal heart rhythms and infections are the most common complications that are seen in our cardiac population after surgery.
Bleeding typically slows down and then stops within the first few hours after surgery. If that doesn't happen, our team will give your child medicine that will help stop the bleeding. In rare cases bleeding will not stop, or will become worse. If this happens, your child may need to be given a blood transfusion and may need another operation to stop the bleeding.
Abnormal clotting is another post-operative risk. For our patients that form abnormal clots, medicine can be given to break apart the clots and prevent them from causing an obstruction. Sometimes patients need to stay on medicine for several weeks to assure their risk of abnormal clot formation is resolved.
Feeding difficulties occur with some babies who undergo heart surgery. This may be a result of injury to the nerves that control the vocal cords that occurs during the operation or due to the development of poor oral motor coordination during hospitalization. We have a specialized team of dietitians and speech therapists that work with patients to provide nutrition support and feeding skill development. Some babies require tubes to be placed through the nose into the stomach for feeding. Occasionally babies may need a tube placed surgically into the stomach for nutrition to be given at home.
Abnormal heart rhythms, or arrhythmias, can happen after heart surgery if the heart is irritated by the procedure. Most arrhythmias get better in a few hours or days after surgery and do not cause problems later. When an abnormal rhythm persists, our team prescribes medicine to control the abnormal rhythm. Rarely, a pacemaker may be required. This device helps your child's heart have a regular rhythm. If your child has arrhythmias or needs a pacemaker, they will be seen by the Herma Heart Institute's Electrophysiology Program. The program is the largest in the state and has electrophysiologists who are specialists in arrhythmias.
Infections following surgery are rare. The hospital tracks all surgical site infections very closely and treats them aggressively. All of our patients receive antibiotics before and after surgery to help minimize the possible risk of infection.
* ASO – arterial switch operation; VSD – ventricular septal defect; CAVC – complete atrioventricular canal; TOF – tetralogy of fallot; TA – truncus arteriosus; CPB – cardiopulmonary bypass; CoA – coarctation of the aorta; Median lengh of stay means that half of our patients go home before that number of days in the hospital and half of our patients go home after that number of days. 
Median length of stay means that half of our patients go home before that number of days in the hospital and half of our patients go home after that number of days. 
Interstage Home Monitoring Program
One example of our commitment to success is our Interstage Home Monitoring Program. For babies with shunt-dependent pulmonary blood flow, there is a critical period in between the Norwood and Glenn procedures called the interstage period. Your baby needs extra monitoring at home to prevent serious problems. The Herma Heart Institute developed the Interstage Home Monitoring Program to help support parents in the at-home setting. In just one year, this program reduced mortality rates from 15% to 0%. We are proud to say that we have maintained these survival rates throughout the last ten years. Today, this program is a national standard of care.
Question 8: What are my options for when, where and how to deliver my baby? How do you work together with my OB/GYN/midwife to prepare for my delivery and my care right before and after delivery?
When: Your baby's heart disease does not typically affect the timing of the birth. The goal is for you to give birth to a full term infant. If you do not live in the Milwaukee area, we may have you plan to come in and induce at 39 weeks pregnancy. Again, your provider will help plan for this if needed.
Where: The location of delivery depends on when we expect your child to need a procedure. If your baby is not expected to need surgery in the first weeks after birth and you do not live in the Milwaukee area, most babies can deliver closer to home with care from their primary doctors. Our fetal cardiology team will discuss this with the referring physicians, to make sure they are comfortable with this plan, and to organize follow-up after birth.
For babies who may need a procedure in the first weeks after delivery, we recommend you give birth at Froedtert Hospital's Birth Center. The birth center is located within Children's Wisconsin, and is adjacent to the Level IV neonatal intensive care unit (NICU) A Level IV NICU is the highest rating given by the American Academy of Pediatrics, and is given to pediatric hospitals that care for the most complex babies. We are one of the few major heart centers that has an in-house delivery unit, avoiding difficulties associated with transport of critically ill newborns. If you plan to deliver at Froedtert's Birth Center, we will ask that you be seen by the high-risk obstetrics (OB) team at Froedtert Hospital so that they can plan your delivery. Our fetal cardiology team meets with Froedtert's high-risk OB team to ensure the care is coordinated for both mom and baby.
How: We anticipate a vaginal delivery in most cases. However, if the fetal cardiologist feels that your baby will need immediate intervention for stabilization, we may recommend a C-section. Your provider will talk with you if that is the case.
Question 9: How do you work together with my baby's doctor after birth and after the procedure?
We know a family's relationship with their baby's pediatrician is special. We partner with your baby's doctor and send them updates to keep them informed about your baby's condition and the care required.
After you go home from the hospital following delivery, your baby's cardiologist will work closely with your pediatrician to coordinate care. If you have concerns about your baby's health, call our office to speak with a nurse or the on-call doctor. We can talk about your concerns and how to help.
Question 10: If my baby needs to stay in the hospital after delivery to prepare for a procedure, where will he/she be? What about after the procedure? Do you have a cardiac intensive care unit (CICU) that cares mainly for children with heart defects?
Before and after surgery
Babies who need surgery before going home will usually be admitted to our Level IV NICU (see answer #8 for why a Level IV NICU is important). Before the scheduled surgery, your baby will move to our cardiac intensive care unit (CICU) for pre-operative care. This allows our CICU team get to know you and your baby. After surgery, your baby will return to the CICU. As he/she heals and gets closer to going home, he/she may be moved to a special unit that cares for recovering cardiac babies.
Our Cardiac Intensive Care Unit
Our CICU is staffed around the clock by highly experienced, board-certified intensive care specialists with additional education in cardiology, cardiac intensive care and cardiac anesthesia. Our team is on the cutting-edge of improving critical care outcomes, specifically in the areas of post-operative care in protecting brain and kidney function. We have also pioneered methods for monitoring how well the heart is delivering blood to the body.
Question 11: Will I get to hold my baby before or after the procedure? If so, when and how?
Our priority is your baby's safety. Often parents can hold their baby prior to the procedure, and within a few days after the procedure. Our skilled nursing staff will promote as much interaction with your baby as possible and ensure that you are closely involved with their care.
Question 12: Will I be able to breastfeed my baby after delivery and again after the operation? Will my baby require a special diet? Should I expect my baby to take a bottle or breast feeding without problems?
We promote breastfeeding your baby both before and after the procedure whenever it is safe. We have developed a set of guidelines to determine if this is right for your baby. We also involve our feeding team from the start, to give your baby the best chance at feeding normally. The team includes specialists, registered dietitians and speech-language pathologists, who will create a personalized plan based on your baby's specific needs.
Our team of certified lactation counselors can support you and your baby in breastfeeding. Children's also has a state-of-the-art milk kitchen which can add extra nutrients to your breast milk, if needed, to help your baby grow.
Herma Heart Institute's answers to the Guided Questions Tool