A legacy of life-saving breakthroughs
For over 65 years, the Herma Heart Institute has built a legacy of pioneering groundbreaking advancements in pediatric heart care. 
As we look toward the future, we will never stop in our quest to make the sickest children well again and thrive in their lives. We will continue to challenge the standard of care, break new ground using innovative technology, and improve long-term outcomes with 21st century genetic and stem cell technologies.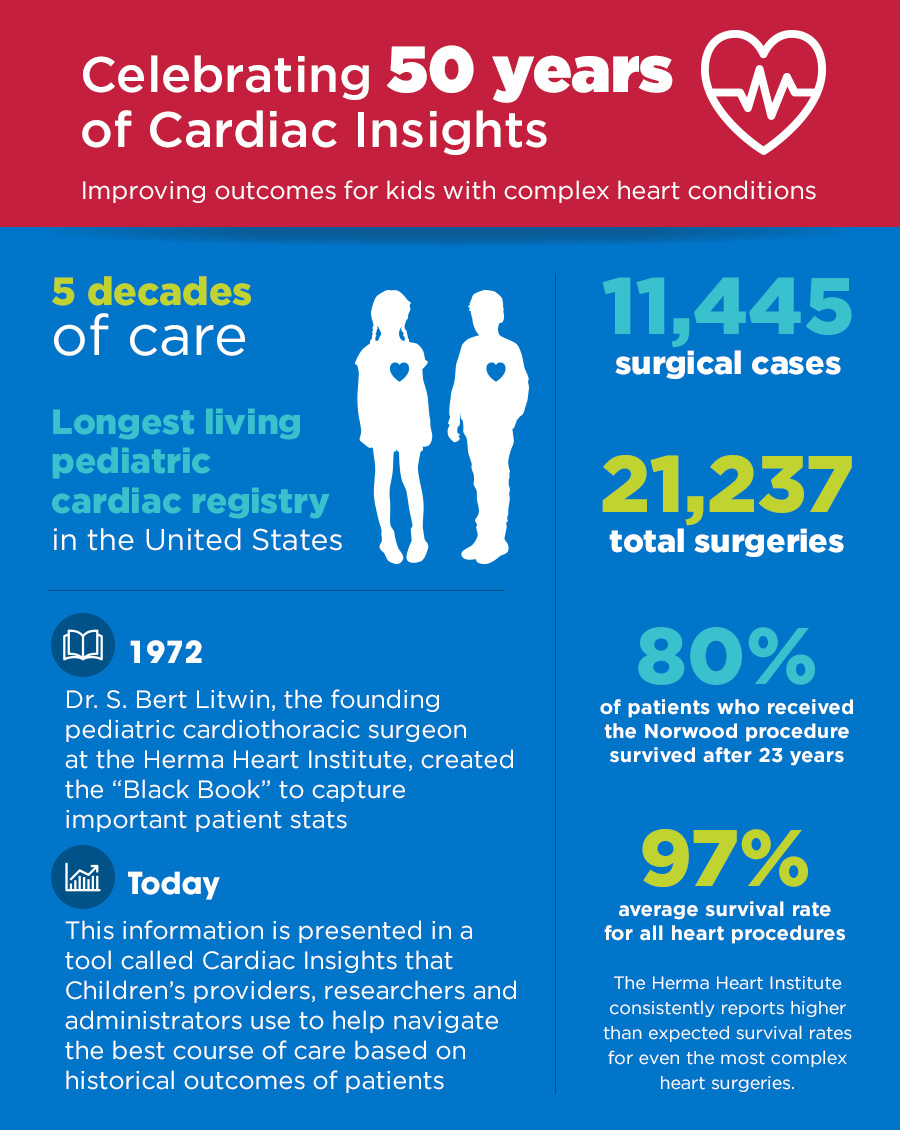 1940 Children's Wisconsin is established as a clinic
1953 Children's hires Dr. William Gallen, one of the first pediatric trained cardiologists in the country
1972 Children's hires Dr. S. Bert Litwin, the founding pediatric cardiothoracic surgeon at the Herma Heart Institute. Dr. Litwin begins tracking surgical outcomes data that became known as the "Black Book"
1981 Children's performs its first Norwood procedure, the first of three staged surgeries for hypoplastic left heart syndrome (HLHS)
1986 Children's has its first successful child support on ECMO
1991 Children's establishes its heart transplant program
1996 Children's develops new protocols to monitor different vital signs to increase HLHS survival from 75 percent to 95 percent
1999 Children's creates Project ADAM to help schools prevent sudden cardiac death
2000 Children's first home monitoring program is introduced, which significant reduces mortality between the state 1 and stage 2 HLHS surgeries
2003 Herma Heart Center is created through the support of the Herma family
2004 Children's establishes an adult congenital heart disease program, one of the first in the country
2005 Children's begins using home ventricular assist devices to support heart transplant patients during their waiting period
2007 Children's launches world's first developmental follow-up program for heart patients
2012 Children's and the Medical College of Wisconsin develop and pilot a blood test that can replace invasive heart biopsies to more accurately predict heart transplant rejection
2015 Children's starts nation's first Educational Achievement Partnership Program for children with cardiovascular conditions to bridge the gap between the medical and educational settings
2016 Children's surgeons successfully perform groundbreaking surgeries to save the life of a baby born without a trachea
2017 Herma Heart Institute is established to drive pediatric heart research and clinical innovation aimed at eradicating congenital heart disease
2017 Herma Heart Institute becomes first in the world to use an EXCOR Berlin Heart as a total artificial heart for a child
2021 The Cord Blood Program is launched to develop personalized treatment plans for congenital heart disease patients
2022 The Herma Heart Institutes celebrates 50 years of Cardiac Insights - the longest living pediatric cardiac registry in the United States
Now Herma Heart Institute continues its long-standing tradition of innovation