Integrative medicine
When your child is sick, you want to do everything you possibly can to help them feel better. We do, too. That's why the MACC Fund Center for Cancer and Blood Disorders offers integrative medicine options that combine traditional cancer therapies with complementary therapies to support your child's health and wellness during treatment and beyond.
What is integrative medicine?
Integrative medicine — sometimes referred to as complementary or alternative medicine — is not meant to replace your child's regular medical care. Instead, integrative medicine uses a variety of evidence-based, noninvasive therapies to enhance your child's health and healing and alleviate pain and discomfort during treatment for cancer and blood disorders. The Integrative Medicine Program at the MACC Fund Center offers:
Acupressure – Acupressure is based on ancient Chinese medicine principles and involves stimulating certain parts of the body to improve the flow of energy, known as qi. It's similar to acupuncture, but instead of needles, it uses gentle pressure applied by the hands. Research shows that acupressure is highly effective for treating pain and nausea, among other symptoms.
Aromatherapy – Smelling essential oils can have a positive effect on the body's parasympathetic nervous system, inducing relaxation and other biological responses. Aromatherapy can be a simple and excellent tool for relieving children's anxiety and nausea.
Nutritional counseling – When your child isn't feeling good, they might reach for comfort food instead of healthier options or may not be interested in eating much at all. But good nutrition can help your child tolerate cancer treatment better and feel more energized. Our nutritionists can provide resources or recommend diet changes to help your child feel their best during treatment and into survivorship.
MACC Fund Center patients can also benefit from integrative medicine therapies offered through Children's Wisconsin's Child Life program, including: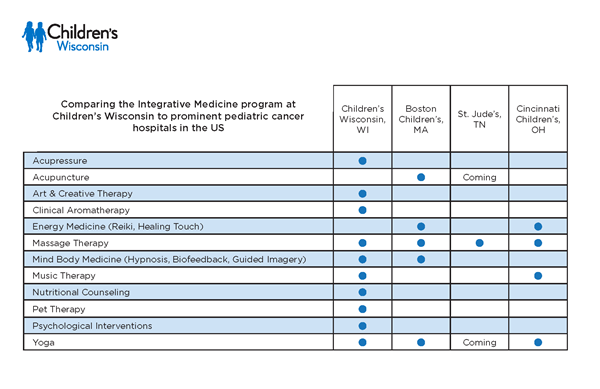 Why choose Children's for integrative medicine?
The MACC Fund Center is one of the first pediatric oncology programs in the nation to offer an integrative medicine program solely focused on patients with childhood cancers. That gives our specialized providers a deep understanding of the unique needs of our patients.

Nearly 90% of families with a cancer diagnosis are interested in exploring integrative medicine. We encourage you to make the MACC Fund Center your first stop for integrative medicine for the following reasons:

Expert care you can trust. Our Integrative Medicine Program is led by Jennifer Havens, ND, a naturopathic physician and clinical researcher. Dr. Havens and our other integrative medicine providers specialize in working with pediatric cancer patients, so they understand the complexity of childhood cancer and blood disorders and the treatments involved. They work closely with Children's oncologists and hematologists to provide the best recommendations based on your child's specific diagnosis and treatment plan.

Convenience. We know a diagnosis of cancer can be overwhelming. Whenever possible, we weave our integrative medicine treatments into your family's other visits to the MACC Fund Center for one-stop care.

It's free! Thanks to the generosity of Children's donors, we're able to provide these services to our patients free of charge.

Integrative medicine offers a very patient-centric approach to care. What works for one child might not work for another, and some supplements — even natural ones — could decrease the effectiveness of your child's chemotherapy or make your child's condition worse. Our team has experts who can recommend the best integrative medicine options for your child.
How integrative medicine can help
Anyone can benefit from integrative medicine approaches, but in the MACC Fund Center, we primarily use it to treat:
Chemotherapy-induced nausea and vomiting (CINV)
Pain caused by cancer, cancer treatment or blood disorders such as sickle cell disease
Opioids often don't work well for children's pain, and parents usually don't want their child heavily medicated if it can be avoided. Many families find that integrative medicine techniques work so well at alleviating their child's symptoms that kids don't need as much pain or nausea medication.

Integrative medicine therapies can also ease children's anxiety — common during treatment for cancer and other chronic conditions that require frequent hospital trips — and improve sleep and energy levels.
What to expect during integrative medicine treatment
The first acupressure appointment is approximately 15 minutes long, starting with a consultation and then the actual treatment. Some children will feel tenderness in the areas that the acupressure provider stimulates, but approximately 90% of kids will experience relief from their original symptoms by the end of the first session. The length of time that your child feels better will vary, but our providers will teach children and their families how to do acupressure themselves as needed to keep symptoms at bay. 

Nutritional consultations vary in length depending on the complexity of your child's needs. 

Aromatherapy, administered by Children's nursing team while the patient is hospitalized, is often just a few minutes alongside your child's other treatment.
Care for your child at home
One of the benefits of integrative medicine is that many of the approaches can be used at home, giving you and your child a sense of control when so much feels beyond your control. Our acupressure providers will provide you and your child with adhesive acupressure magnets so you can stimulate the pressure points at home, which helps kids feel empowered to ease their pain and nausea between visits. Our integrative medicine experts can also recommend essential oils and nutritional supplements that are safe for your child to use at home.
Schedule an appointment
Interested in trying an integrative medicine service? Please call (414) 266-2420, press #1 and then #2 to reach a MACC Fund Center scheduler. If you have questions about integrative medicine, contact Program Director Jennifer Havens, ND.
Contact us
Need more information or an appointment? We're happy to help.
For appointments, contact the individual programs within our MACC Fund Center for Cancer and Blood Disorders.