Integrative medicine
Integrative medicine, sometimes referred to as alternative medicine or complementary medicine, combines traditional cancer therapies with treatments such as acupressure, music and recreational therapy, and nutritional counseling. Together, these approaches can ease symptoms like pain, nausea and anxiety that cancer and its treatment can cause. We are pleased to offer these services at Children's Wisconsin.
Acupressure services now available!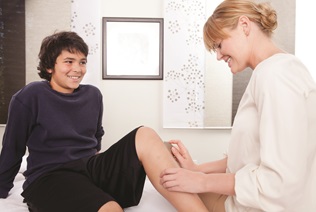 Thanks to the generous support of a family whose child was treated at the MACC Fund Center for Cancer and Blood Disorders, and the Children's Wisconsin Foundation, we are pleased to offer integrative medicine services to treat chemotherapy induced nausea and vomiting (CINV) and pain. This treatment is offered at no charge to our MACC Fund Center patients.
---
The clinic is open every other Tuesday:
MACC Fund Center inpatient unit
MACC Fund Center outpatient unit
Conditions we treat
Chemotherapy-induced nausea and vomiting (CINV)
Pain caused by cancer and cancer treatment
Our provider
Schedule an appointment
Please call (414) 266-2420 press #1, and then #2 to reach a MACC Fund Center scheduler
Need more information or an appointment? We're happy to help.
For appointments, contact the individual programs within our MACC Fund Center for Cancer and Blood Disorders.