Berlin Heart
What is the Berlin Heart?
The Berlin Heart pediatric ventricular assist device is a mechanical cardiac support system for critically ill pediatric patients suffering from severe heart failure. The device is designed to support pediatric patients of all age groups, from newborns to teenagers, who are awaiting heart transplantation.
The device itself varies in size based on the age of the recipient. The majority of the device is external connecting to small tubes that are implanted inside the chest. Allowing the child, who was previously confined to bed and breathing machines, to move around and be involved in some of their regular activities.
What is the function of the Berlin Heart?
The device takes over the heart's work of pumping blood to the body. Since it efficiently supplies blood to the body, organs can now function properly and results in the overall improvement of organ functioning. Making the child a better candidate for transplant.
Use of the Berlin Heart
The Berlin Heart is the only device designed for the use of children. In 2011, the FDA approved the use of the device in the pediatric population. Children's Wisconsin was one of 15 sites selected to participate in the clinical study to help attain FDA approval.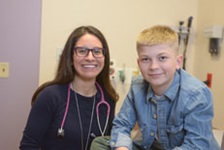 At 11 years old, Jack's need for a heart transplant soon made him the first pediatric heart patient in the U.S. to have a home VAD. Read Jack's story.
Brandon's story
Brandon underwent surgery for hypoplastic left heart syndrome, but his heart was too fragile. It became clear he needed a transplant.
See more patient stories
.